With Doubleknot's integrated online and on-site ticketing software and admissions solutions, you can sell and issue scannable tickets for general admissions, tours, field trips, events, programs and facility rentals.
Quick and easy online ticket sales and mobile tickets.
The group ticketing option reduces wait time by checking in all members of a group in a single scan.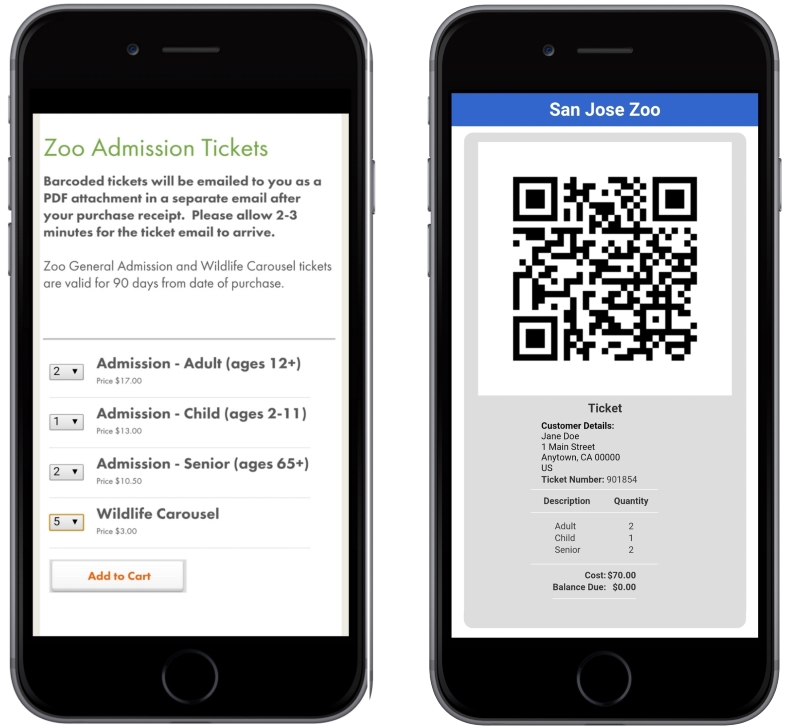 Customers can purchase tickets online to print at home or display on a smartphone. On site, you can sell and print tickets at the front desk or front gate with the Sales Station POS, and when ticket lines are long, you can use the Sales Station mobile POS as an ad-hoc ticket booth for "linebusting" and deliver tickets by text message or email.
It used to take 90 minutes to check in 600 teachers for Education Day.
With Doubleknot, we did it in 25.
With Doubleknot's ticketing, admissions and check-in solutions, you can:
Online and on-site ticket sales for general admissions, special events, group visits, tours and attractions.
Eliminate long lines by setting up ad hoc ticketing with the Sales Station mobile POS.
Speed admissions and check-in with group ticketing, and quickly update reservation and payment records to reflect the actual number of attendees.
Identify visitors with a balance due and collect outstanding payments before validating tickets.
Customize tickets with your logos, graphics and instructions.
Read more about Doubleknot's ticketing and admissions
solutions (PDF).
Learn how other organizations use Doubleknot's integrated
solutions for ticketing and admissions.
Ticketing and admissions features include: